Land travelers may apply online for provisional I-94 arrival record
Added 11/3/2016
International travelers entering the U.S. by land may now apply and pay online for their I-94 arrival record up to seven days before entry.
Key points:
Travelers may complete an I-94 form and pay the $6 application fee on the I-94 website.
A provisional I-94 arrival record will be issued. In order to complete the process, the traveler must appear at a land border within seven days of the application and be prepared to show evidence of their residence, employment and travel plans and give biometrics if required.
If the applicant fails to appear within seven days, the provisional I-94 will expire and the traveler must reapply and pay the fee again.
Background: The I-94 arrival record indicates that an international traveler has been lawfully admitted to the U.S. and is needed to verify alien registration, immigration status and employment authorization. Since 2013, the online I-94 process has been available to air and sea travelers. The recent announcement extends it to travelers entering by a land border.
BAL Analysis: The online I-94 application will make it more convenient and faster for nonimmigrant visa holders to provide their biographical information for purposes of obtaining an arrival record upon entry.
http://www.balglobal.com/bal-news/land-travelers-may-apply-online-for-provisional-i-94-arrival-record/
Share On:
or use the Permalink
---
Our own Jason Paschel graces the pages of the September issue of Mobility Magazine
Added 9/7/2016
Share On:
or use the Permalink
---
China to require U.S. imports to be mosquito-free
Added 8/12/2016
In a move that could create export delays and add cost, China is now requiring that imported American goods be mosquito-free to prevent spread of the Zika virus, according to a trade advisory issued Wednesday by one of the world's largest shipping lines.
The advisory from the Mediterranean Shipping Company (MSC), cites an announcement from the Chinese General Administration of Quality Supervision, Inspection and Quarantine:
"With immediate effect, it means that there is a need to provide a certificate of extermination of mosquito. If no certificate is provided, the buyer must fumigate the cargo at arrival at port of destination."
The requirement comes as American health officials grapple with reports of Zika infections in Florida from mosquitoes.
But it's unclear how exactly that requirement will be implemented. The Agriculture Transportation Coalition's program manager Abigail Struxness said the agriculture exporters' trade group is working to find out who will fumigate, with what, when, who issues the certificate of extermination and whether cargoes from the entire country are subject to the requirement when "only one corner of one state" -- Florida -- has had Zika reports from mosquitoes that are believed to be in the area..
"This will most certainly disrupt the U.S. exporters' ability to deliver goods affordably and on time to foreign customers in China," the trade group said in a statement.
Zika is primarily transmitted by Aedes aegypti, also known as the yellow fever mosquito, which thrives in tropical climates. The virus is hard to detect as 80% of people infected show no symptoms. For those who do, the illness is usually mild with symptoms including fever, rash, joint pain and red eyes lasting from several days to a week. However, infection during pregnancy can cause the babies to have abnormally small brains, a birth defect called microcephaly.
China first announced the requirement on March 2, but the U.S. was not listed among the 40 countries and regions in which it initially applied. It's now been added.
The Agriculture Transportation Coalition lists a number of questions in its statement, including the cost and feasibility of fumigating high-volume cargoes.
http://www.usatoday.com/story/money/2016/08/10/china-requires-us-exports-prove-mosquito-free/88529046/
Share On:
or use the Permalink
---
Turkey Travel Warning
Added 7/19/2016
LAST UPDATED: JULY 18, 2016
The U.S. Department of State warns U.S. citizens of increased threats from terrorist groups throughout Turkey and to avoid travel to southeastern Turkey. In light of the July 15 coup attempt and the resulting potential for interruptions to travel and daily life, we suggest U.S. citizens reconsider travel to Turkey at this time. This replaces the Travel Warning dated July 16, 2016.
Foreign and U.S. tourists have been explicitly targeted by international and indigenous terrorist organizations. As stated in the Worldwide Caution dated March 3, 2016, throughout Europe extremists have targeted large sporting events, theatres, open markets, aviation services, transportation systems, and public venues where people congregate as well as religious sites and highprofile events. U.S. citizens are reminded to review personal security plans and remain vigilant at all times. U.S. Government personnel in Turkey remain subject to travel restrictions in the southeastern provinces of Hatay, Kilis, Gaziantep, Sanliurfa, Sirnak, Diyarbakir, Van, Siirt, Mus, Mardin, Batman, Bingol, Tunceli, Hakkari, Bitlis, and Elazig. U.S. citizens should avoid areas in close proximity to the Syrian border.
On July 18, 2016, the Federal Aviation Administration rescinded its July 15, 2016 notice to airmen (NOTAM) which was issued following the launch of an unsuccessful military coup in Turkey. The NOTAM prohibited U.S. airline carriers from flying to or from Turkish airports and all airline carriers, regardless of country of registry, from flying into the United States from Turkey either directly or via a third country. Normal flight operations for all carriers between the United States and Turkey have resumed.
The Department of State extended its March 29, 2016 ordered departure of family members of U.S. Government personnel posted to the U.S. Consulate in Adana and family members of U.S. Government civilians in Izmir province through July 26, 2016. The Department of State terminated its March 29, 2016 ordered departure declaration for Mugla province. The U.S. Consulate in Adana remains open and will continue to provide all routine consular services.
For your safety:
Avoid travel to southeastern Turkey, particularly near the Syrian border.
Stay away from large crowds, including at popular tourist destinations.
Exercise heightened vigilance and caution when visiting public access areas, especially those heavily frequented by tourists.
Stay away from political gatherings and rallies.
Follow the instructions of local authorities in an emergency.
Stay at hotels with identifiable security measures in place.
Monitor local media.
For further detailed information regarding Turkey and travel: See the State Department's travel website for the Worldwide Caution, Travel Warnings, Travel Alerts, and Turkey's Country Specific Information.
For further details: https://travel.state.gov/content/passports/en/alertswarnings/turkey-travel-warning.html
Share On:
or use the Permalink
---
Champion International makes the move to Facebook
Added 7/18/2016
It's been a long time coming but we've finally arrived - on Facebook, that is. Champion International has created a Facebook page to share our "softer" side: in-house events, local and national conference photo ops and the other fun things that not many get to see. We already have a LinkedIn page to convey the business info: industry alerts, impactful worldwide events and other topical news so our Facebook page will be a good balance. If you want to take a peek at Champion's lighthearted side, please check out our page. You can click the links at the top of our website to take you right to either place, or click here: https://www.facebook.com/championinternational/ or https://www.linkedin.com/company/champion-international-moving-ltd
Share On:
or use the Permalink
---
Brazil Summer 2016 – Things to Know About the Olympics, Zika and Your Relocation
Added 6/21/2016
The Rio 2016 games, officially referred to as Games of the XXXI Olympiad, begin in about 50 days and will go on from 5 to 21 August 2016. This will be the first time the Olympic Games are held in South America and more than 10,000 athletes from over 200 counties will be participating. With less than two months left until the games begin, now would be a good time to decide if spending your summer in Brazil during the games is something you would want to do.
Factors to Consider Before Traveling to the Olympics
The Zika virus is spreading rapidly and many would be Olympic travelers are wondering if traveling to Brazil right now is the right thing to do. There are concerns about safety and it is advisable to take precautions. Other safety concerns are connected to the infrastructure that the Brazilian government has put up for the games. Due to the fact that the budget for putting up the infrastructure has been inflated, will Brazilians accept to support the government or will they rebel. If they choose to rebel, there could be strikes, riots and demos and this could put many things into jeopardy. New infrastructure can also be compromised due to the fact that they have been built hurriedly. There are definitely some essential factors to consider before taking a flight to Brazil. For purposes of safety and comfort, the following issues must be considered.
Be Aware of the Health Risks
The World Health Organization has been very specific about Zika by describing it as an international public health emergency. The virus has not been known to have life threatening symptoms except in very rare and extreme situations. For the regular traveler, the virus is not considered to pose any danger even when they visit areas that have been impacted by Zika. For people who are pregnant or are planning to get pregnant, the virus can be potentially dangerous. Anybody else would have no extenuating explanations to skip the Rio 2016 games.
The Importance of Taking Precautions and Staying Updated
Just recently, the World Health Origination has stated that there is a very low risk of the Zika virus spreading. They have also stated that it is not necessary to move the Olympic Games from Rio or and there is no need to postpone the games altogether. Because the virus has been linked to birth defects, there are precautions that are recommended for women who are either pregnant or are planning to get pregnant. Men who want to attend the games and have pregnant spouses have also been advised. Any pregnant woman is advised not to attend the Olympics. Men who attend must take vital measures to prevent mosquito bites. They should also use condoms or abstain from sexual contact to avert the possibility of transmission of the virus.
Zika Not the Only Threat to Health
But Zika alone is not the only possible health challenge. A mosquito bite could also bring about dengue, a common disease in Brazil and the tropics that can affect anybody. Taking precautions is vital to keeping yourself from this ailment. Water is another area where you must remain watchful about. Avoid tap water and when you take bottled water, ensure that they are tightly sealed and have not been tampered with. Authorities in Rio have done so much to ensure that there is safe drinking water. Pollution is still a problem and bacteria and waterborne infections can be found in Rio's waters. Activities such as swimming, bathing and wading in the water could be unsafe. It is advisable to have loose fitting and long sleeve attire as well as full length pants and to use insect repellants. You should also stay in accommodations that are mosquito proof. Your beddings should have mosquito nets and you should stay in accommodations that are air conditioned in order remain safe.
Getting the Best Deals
Because the dollar is very strong at the moment, you can get good deals on airfare and a long trip can be quite beneficial. There is very high competition right now among airlines and many regional carriers are offering huge discounts to attract customers. You can get round trip flights for fares as cheap as $650. This is very affordable if you are on a budget. You should also not procrastinate on accommodations because they will become steeper as the event draws near. Prominent places that are in close proximity to Rio such as Copacabana, Barra de Tijuca and Ipanema will see a surge in the number of visitors. Copacabana could still have rentals at less than $400 with Barra de Tijuca and Ipanema available at rates at $230 to $420. During the event, expect rentals to become inflated because of demand. While most of the events during the Olympic Games are already sold out, you can still get tickets for a few events. Some tickets can become available if other attendants cancel. You can register for the Rio ticket web portal where you will get updates. You can also try looking for tickets from registered sellers where you will get specific prices for specific events.
What You Need to Know Locally
Learning more about the local environment will help you with your stay in Brazil. You should learn about areas with potential crime and be aware of the climatic conditions. Rio has high levels of street crime despite that fact that it is a very attractive, exhilarating and affordable city. It helps to ditch valuables such as jewelry, and ensure your phone is tucked into safety. Moving around with a travel money card that has limited money is advisable. You must always remain observant in especially in crowded areas and take care of your belongings and never get distracted because this makes you easy prey for pickpockets. Exploring with a local and walking in large groups helps and it is also advisable to use credible taxis to get around. It's advisable to call radioed taxis or have the hotel where you stay call the taxi for you.
Travel Requirements
People from South American and some European nations do not need a tourist visa for Brazil. Due to the games, anyone from USA, Canada, Australia and Japan will also be exempted from June 1st to September 18th.
Share On:
or use the Permalink
---
State Department issues travel alert for Europe
Added 6/6/2016
Key points:
· In particular, the State Department said matches and events associated with the European soccer championship (UEFA Euro 2016), hosted by France from June 10 to July 10, could represent "potential targets for terrorists." France has extended its state of emergency through July 26, a period which also includes the Tour de France cycling race.
· The department also said the Catholic Church's World Youth Day in Krakow, Poland, which is expected to draw 2.5 million people between July 26 and 31, could pose problems. Of particular concern is the expected strain on local infrastructure from the influx of millions of people.
https://www.balglobal.com/News/News/Details/tabid/1136/id/5212/language/en-US/UNITED-STATES-June-1-2016-State-Department-issues-travel-alert-for-Europe.aspx
Share On:
or use the Permalink
---
Temporary visa exemption for 4 countries to begin June 1
Added 5/17/2016
IMPACT – MEDIUM
What is the change? A temporary visa exemption for nationals of Australia, Canada, Japan and the United States will go into effect starting June 1 ahead of the Olympic Games in Rio de Janeiro.
What does the change mean? From June 1 to Sept. 18, nationals of the four countries may visit Brazil for tourist purposes without a visa for stays of up to 90 days.
Implementation time frame: June 1 to Sept. 18.

Visas/permits affected: Visa exemption.

Who is affected: Nationals of Australia, Canada, Japan and the U.S.

Impact on processing times: The waiver will temporarily eliminate visa processing for affected nationals.

Business impact: Business activities are not permitted on the visa waiver. Anyone intending to conduct business, work, study or engage in other nontourist activities must apply for an appropriate visa at a Brazilian consulate.
Background: The government announced in January that visas would be temporarily lifted for the four countries to promote tourism before and during the Olympic Games. Eligible nationals will not need to apply for a visitor visa at a consulate and will instead have their passports stamped upon arrival. Individuals competing in the Olympics are not eligible for the visa waiver.
BAL Analysis: Travelers are reminded that the visa exemption should only be used by individuals who are traveling to Brazil for tourist purposes, not for business or other activities, and that it is valid for the period stamped in their passport and cannot be renewed.
https://www.balglobal.com/News/News/Details/tabid/1136/id/5184/language/en-US/BRAZIL-May-16-2016-Temporary-visa-exemption-for-4-countries-to-begin-June-1.aspx
Share On:
or use the Permalink
---
Infographic: How to prepare for global container weight mandate
Added 4/28/2016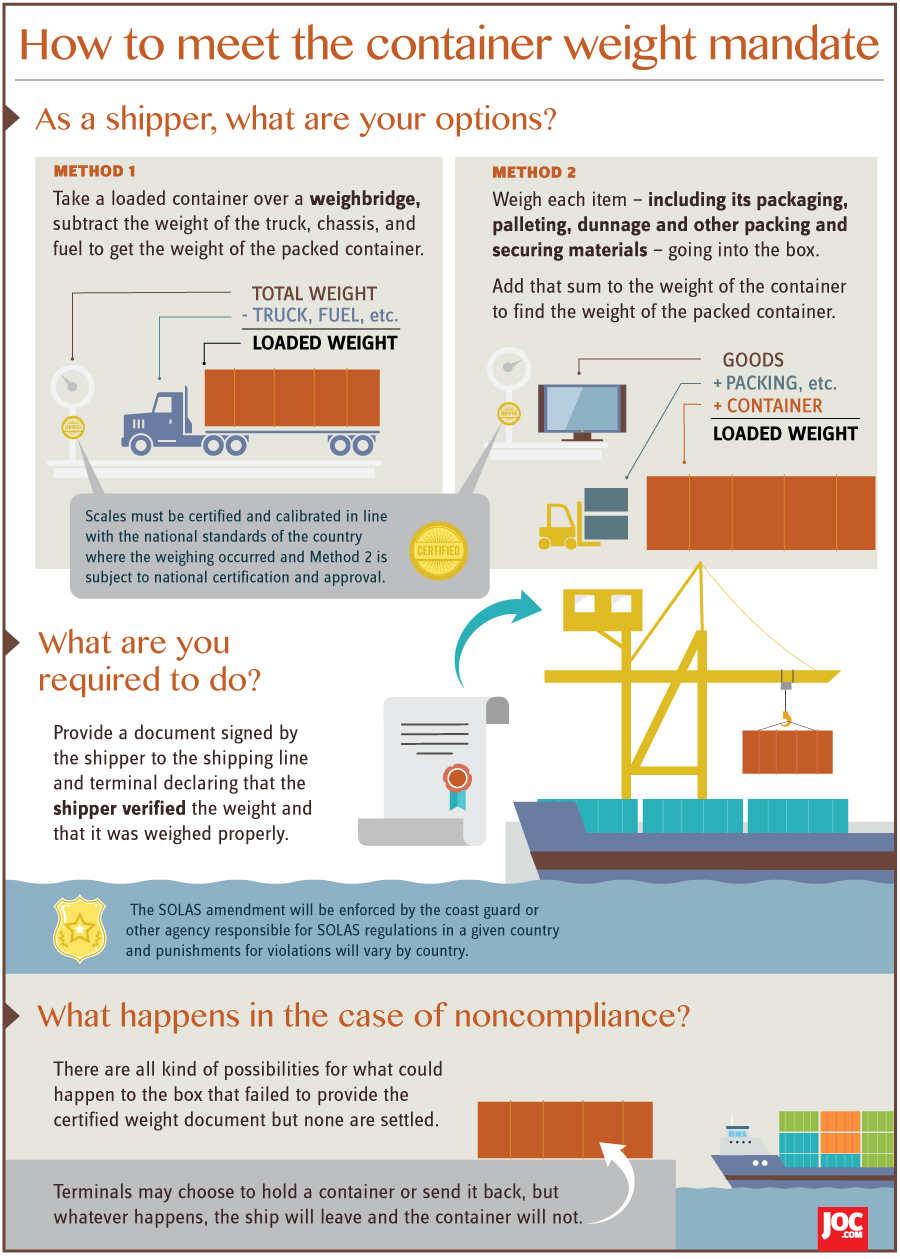 Dustin Braden, Assistant Web Editor, JOC.com
http://www.joc.com/regulation-policy/transportation-regulations/international-transportation-regulations/infographic-how-prepare-global-container-weight-mandate_20151211.html
Share On:
or use the Permalink
---
The Most Expensive City For Renters Will Surprise You
Added 4/22/2016
APRIL 21, 2016, 12:55 PM EDT
It's not San Francisco.
It's not London, New York, or even the reigning champion over the world's most expensive housing market, Hong Kong.
No—the city with the least affordable rent is Beijing, where rent costs eats up roughly 123% the average salary. Smog included. Although Beijing's nominal monthly rent is $789 on average, the ordinary worker cannot afford to live in typical housing alone, according to the study from U.K.-based nonprofit organization, Global Cities Business Alliance, since rent costs exceed their salary.
The second and third most expensive cities to live in areAbu Dhabi and Hong Kong, where rent is 70% and 64% of earnings respectively. The organization analyzed rent and income data from 15 major cities.
It's not San Francisco.
It's not London, New York, or even the reigning champion over the world's most expensive housing market, Hong Kong.
No—the city with the least affordable rent is Beijing, where rent costs eats up roughly 123% the average salary. Smog included. Although Beijing's nominal monthly rent is $789 on average, the ordinary worker cannot afford to live in typical housing alone, according to the study from U.K.-based nonprofit organization, Global Cities Business Alliance, since rent costs exceed their salary.
The second and third most expensive cities to live in areAbu Dhabi and Hong Kong, where rent is 70% and 64% of earnings respectively. The organization analyzed rent and income data from 15 major cities.
"Big cities like Beijing are victims of their own success: Rapid growth has magnetized workers, but they now need to deliver enough houses so that workers enjoy living there," said Lesley Saville, CEO of the Global Cities Business Alliance in a statement. "Beijing is trying to address the problem with measures such as building new underground lines to unlock housing and by directly funding development, which will help."
In comparison, rent in New York and San Francisco, two cities known for high housing prices, average around 63% or 51% of earnings respectively.
The rising housing costs have pushed workers in Beijing further into surrounding areas. According to the Alliance, the average Beijing worker commutes 104 minutes, round trip, for their job—making it the city with the second longest commute time behind Mexico City, where employees travel 113 minutes, in the world.
But some citizens have taken less conventional ways to deal with surging housing costs in Beijing. Some have started living in the small windowless basements of apartment buildings, or in one case, the sewers, Reuters reported.
And it's not unwarranted. Housing prices have risen 18% in the 12 months ending March. But there are other problematic implications to the high cost of rent in Beijing. While consumers are spending the majority of their paychecks on rent, they also have far less money to spend on other goods and services, which can't be good for a country trying to stimulate growth and transition to a consumer-based economy.
http://fortune.com/2016/04/21/the-most-expensive-city-beijing/
Share On:
or use the Permalink
---
Travelers advised over Zika virus
Added 2/10/2016
UNITED STATES (Feb. 4, 2016) – Travelers advised over Zika virus
The Centers for Disease Control has updated its travel advisories regarding the Zika virus in light of recent outbreaks in the Americas.
The alerts recommend that travelers take enhanced precautions when traveling to numerous countries in South America, Central America, the Caribbean, the Pacific Islands, and Cape Verde. The list of countries where the virus has been reported can be found in the CDC notices.
On Monday, the World Health Organization declared the Zika virus an international public health emergency, but did not recommend travel restrictions.
The Zika virus is transmitted to humans through infected mosquitos, and a recent Texas case confirmed that it can spread through sexual contact. The virus can be transmitted from a pregnant woman to her unborn child, and health authorities are investigating a connection between the virus and microcephaly in newborns, a condition that stunts brain development.
At this time, there is no vaccine or cure for Zika. The CDC recommends that all travelers to regions where Zika has been reported protect themselves against mosquito bites, and encourages pregnant women to consider postponing travel to any area where the Zika virus is ongoing. Pregnant women who must travel and women trying to become pregnant should consult their doctor before travel and strictly follow steps to prevent mosquito bites.
BAL Analysis: At this time, the CDC has not raised its travel alerts to its highest level (avoid nonessential travel), but recommends that travelers take enhanced precautions when traveling to regions that have reported the virus. The CDC has posted additional information on its website.
- Berry Appleman & Leiden LLP
https://www.balglobal.com/News/News/Details/tabid/1136/id/4968/language/en-US/UNITED-STATES-Feb-4-2016-Travelers-advised-over-Zika-virus.aspx
Share On:
or use the Permalink
---
Career Best: Expats Put Switzerland On Top, But It's Not Just About the Money
Added 2/8/2016
There are many reasons for becoming an expat, but one of the biggies is career advancement. A move abroad can mean more interesting work, better money, or just a healthier work/life balance.
As part of their global expat survey, which looks at everything from food to funds for expats, HSBC HSBA.LN -4.35% has now crunched the numbers relating to careers.(The broader survey results appeared in September.) The survey found that Switzerland is rated by expats as the best choice for a career abroad.
The latest set of figures from the the Expat Explorer survey, which is conducted byYouGov, asked 21,950 people based in more than 100 countries about their experience. They said that Switzerland was the best all-round destination for a career abroad: There's excellent earning prospects (think of all those banking jobs—not to mention the currency effect) and it's nice, as well. Almost two thirds of expats in Switzerland said the country offers higher salaries than at home, while 53% praise the working culture and 43% feel more secure in their job.
Carolyn Bandel moved to Zurich from London seven years ago, to work for financial news service Bloomberg, but liked the city so much she stayed and moved into public relations. She now works in the media relations team in the global reinsurer Swiss Re. "Switzerland is no land of milk and honey, but its stability and general wealth make for an attractive and diverse job market," she said. "Swiss laws also apply to foreign workers, so we get 25 days of holiday and equal pay conditions."
Then there's the appeal of Zurich itself, which always features highly inMonocle's list of livable cities. "The quality of life is tremendous. Everything works and is on time, and the place is super clean," said Ms. Bandel. "Public transport is amazing and there's lots of nature on your doorstep, which is great if you're into skiing or hiking or both."
European countries dominate the table, especially when it comes to expats who know that life is about more than just money. Those in Sweden enjoy the best work/life balance in the world, with 72% of expats there finding a better balance than at home. Just look at their policy on paternity leave, which sees most men taking at least two months off. Meanwhile, the U.K. is seen as one of the best places to develop skills. Nearly three in five expats say the country offers them a better chance to do this.
Europe scored highly for job security, but if your idea of a fulfilling career is all about the cash, head east. The majority of expats in Qatar (67%), the United Arab Emirates (62%) and Bahrain (61%) say they earn more now than they did at home. If your goal is a bigger paycheck but you prefer tropical downpours to desert dryness, two-thirds of expats in Singapore say their earning prospects are better than at home, and 68% of those in Hong Kong feel that way. Beware, however, you may not have time to enjoy the dim sum: Only 28% of expats in Hong Kong say their work/life balance has improved.
If you're considering your next move, the global survey data is available as a careers tool. "It's all down to what you want to get out of a career specifically during your time abroad," said Dean Blackburn, head of HSBC Expat. "Thousands of expats have made the move before you, now you can learn from their experience."
http://blogs.wsj.com/expat/2016/02/03/career-best-expats-put-switzerland-on-top-but-its-not-just-about-the-money/
Share On:
or use the Permalink
---
Delays expected due to blizzard
Added 1/26/2016
UNITED STATES (Jan. 25, 2016) – Delays expected due to blizzard
Following a record-breaking winter storm, many U.S. government agencies, foreign embassies, consulates and other offices remain closed in the Washington, D.C. area, and services have been impacted in states from New York to North Carolina.
All applicants should anticipate delays in immigration, visa and other services, as the aftermath of the storm is also disrupting mail delivery and transportation. FedEx and UPS are both reporting significant delays in package and mail services.
In addition, as the area digs out of the snow in the coming days, government and consular offices that reopen may be operating with reduced staff due to road conditions and transportation affecting personnel who commute to those offices.
Winter Storm Jonas began Friday and dumped more than two feet of snow on the East Coast over the weekend with some areas reporting more than 40 inches. Federal and local government offices in the D.C. area remained closed Monday as did public schools in several states. Local transportation is also running on restricted schedules. Airlines canceled approximately 12,000 flights since Friday.
- Berry Appleman & Leiden LLP
Courtesy of https://www.balglobal.com/News/News/Details/tabid/1136/id/4941/language/en-US/UNITED-STATES-Jan-25-2016-Delays-expected-due-to-blizzard.aspx
Share On:
or use the Permalink
---
UNITED STATES/GLOBAL (Jan. 6, 2016) – The year ahead: Immigration trends to look for in 2016
Added 1/7/2016
Immigration was a hot topic this year, grabbing headlines on issues ranging from the renewed focus on H-1B visas in the U.S to the Mediterranean refugee crisis reverberating in Europe.
As we begin the new year, BAL has compiled a review of changes in the past year and a preview of some of the major immigration trends to expect in the U.S. and key countries around the world in 2016.
UNITED STATES
The fate of two key provisions of President Obama's immigration executive actions is in the hands of the Supreme Court. The actions, which would defer deportation for 5 million undocumented immigrants, remain on hold after an appeals court upheld an injunction blocking them this year. If the Court takes the case, it could issue a ruling by June.
On the business immigration side, several significant initiatives will be implemented in the coming months. U.S. Citizenship and Immigration Services has published proposed regulations intended to provide greater flexibility and job portability for H-1B workers and other foreign employees in the U.S. on nonimmigrant visas or seeking employer-sponsored green cards. Comments on the proposed rule will be accepted until Feb. 29, and the regulations will be implemented thereafter.
The Department of Homeland Security will also be finalizing and implementing a STEM-OPT regulation that both expands Optional Practical Training (OPT) opportunities for foreign students with degrees in science, technology, engineering, and math (STEM) fields and imposes significant new obligations on employers. The revised regulation is the result of an ongoing lawsuit over the OPT program. A court gave DHS until Feb. 12 to issue a new regulation without disturbing the existing STEM-OPT regulation in the meantime. The agency's request for a 90-day extension of that deadline is pending. Meanwhile, opponents continue to challenge the OPT program in a federal appeals court.
During the first half of 2015, USCIS issued a regulation allowing H-4 spouses of certain H-1B workers to obtain employment authorization in the U.S. The agency also released policy guidance regarding the implementation of the Administrative Appeals Office decision Matter of Simeio Solutions, and the adjudication of L-1B petitions for employees with specialized knowledge.
Congress wrapped up the year passing a federal budget containing two immigration provisions that will have an impact in the coming year. One provision will double H-1B and L-1B visa petition fees for certain employers who are heavily reliant on H-1B and L-1B workers. The second provision contains new rules and passport requirements for foreign visitors traveling to the U.S. under the Visa Waiver Program.
A spate of bills to restrict H-1B and L-1B visas was introduced at year's end. The bills propose to lower the H-1B cap by 15,000, set a $110,000 salary floor for H-1B workers and place new limits on H-1B and L-1B employers. While these measures may not gain traction, they are indicative of a mood toward tightening the rules for employers hiring foreign high-skilled workers.
As the 2016 presidential election approaches, immigration will likely remain at the forefront of campaign politics.
- Berry Appleman & Leiden LLP
Courtesy of www.balglobal.com
For details on additional countries, please continue reading here:
https://www.balglobal.com/News/News/Details/tabid/1136/id/4899/language/en-US/UNITED-STATESGLOBAL-Jan-6-2016-The-year-ahead-Immigration-trends-to-look-for-in-2016.aspx
Share On:
or use the Permalink
---